Jeep Cherokee

Service Manual

Transmission and transfer case » AW-4 automatic transmission » Removal and installation

Accumulator pistons and springs
REMOVAL
(1) Remove valve body.
(2) Remove accumulator pistons with compressed air (Fig. 82). Apply air through small feed hole next to each piston bore. Catch each piston in a shop towel as it exits bore.
CAUTION: Use only enough air pressure to ease each piston out of the bore. In addition, remove the pistons one at a time and tag the pistons and springs for assembly reference. Do not intermix them.
(3) Remove and discard piston O-ring seals. Then clean pistons and springs with solvent.
INSTALLATION
(1) Inspect pistons, springs and piston bores.
Replace worn damaged pistons. Replace broken, collapsed or distorted springs. Replace case if piston bores are damaged.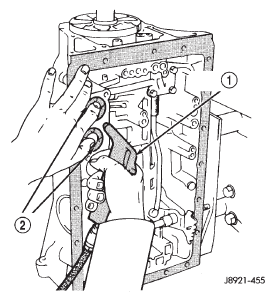 Fig. 82 Accumulator Piston Removal
1 - AIR GUN NOZZEL IN FEED HOLE
2 - PISTONS
(2) If small cushion spring in any piston must be replaced, remove spring retainer clip and remove spring from piston (Fig. 83). A small hooked tool or small thin blade screwdriver can be used to remove clip. A thin wall, deep socket, or pin punch can be used to seat clip after spring replacement.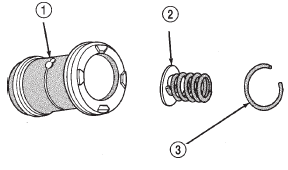 Fig. 83 Small Cushion Spring Retention
1 - ACCUMULATOR PISTON (TYPICAL)
2 - SMALL CUSHION SPRING
3 - RETAINER CLIP
(3) Install new O-ring seals on pistons. Lubricate seals and pistons and piston bores with transmission fluid.
(4) Install pistons and springs (Fig. 84).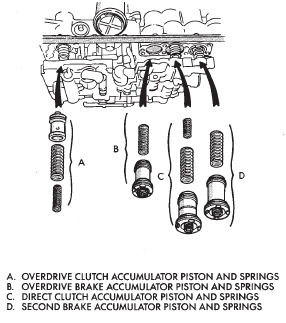 Fig. 84 Accumulator Pistons, Springs And Spacers
(5) Install valve body, oil screen and oil pan.
More about «Removal and installation»:
Accumulator pistons and springs