Jeep Cherokee

Service Manual

Audio systems » Removal and installation

Amplifier
(1) Disconnect and isolate the battery negative cable.
(2) Disengage the rear seat cushion latch by pulling upward on the release strap. Tilt the seat cushion forward.
(3) Lift the carpeting in the left under-seat area as required to access the amplifier.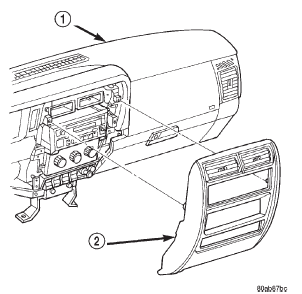 Fig. 2 Center Bezel Remove/Install
1 - INSTRUMENT PANEL
2 - CENTER BEZEL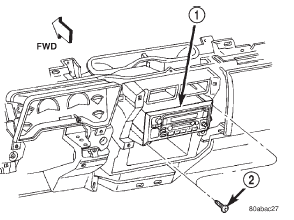 Fig. 3 Radio Remove/Install
1 - RADIO
2 - SCREW
(4) Unplug the two wire harness connectors from the amplifier (Fig. 5).
(5) Remove the three screws that secure the amplifier to the floor panel.
(6) Remove the amplifier from the floor panel.
(7) Reverse the removal procedures to install.
Tighten the amplifier mounting screws to 2.8 N·m (25 in. lbs.).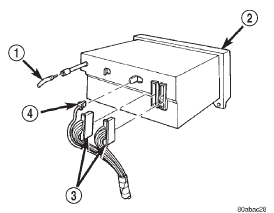 Fig. 4 Radio Connections - Typical
1 - ANTENNA CABLE
2 - RADIO
3 - INSTRUMENT PANEL WIRING
4 - GROUND WIRE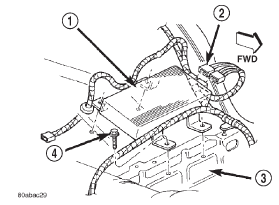 Fig. 5 Amplifier Remove/Install
1 - AMPLIFIER
2 - WIRE HARNESS CONNECTORS
3 - REAR FLOOR PAN
4 - SCREW
More about «Removal and installation»:
Amplifier