Jeep Cherokee

Service Manual

Battery » Description and operation

Battery hold downs
DESCRIPTION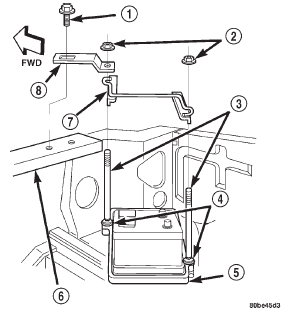 Fig. 3 Battery Hold Downs
1 - SCREW AND WASHER (1)
2 - NUT AND WASHER (2)
3 - T-BOLT (2)
4 - RETAINER (2)
5 - BATTERY TRAY
6 - UPPER RADIATOR CROSS MEMBER
7 - BRACKET
8 - STRAP
The battery hold down hardware (Fig. 3) includes two T-bolts with plastic push-on retainers, a hold down bracket, a stamped steel battery support strap, two hex nuts with coned washers and a single hex screw with a coned washer. The battery hold down bracket consists of a formed steel rod with a stamped steel angle bracket welded to each end. The hold down bracket assembly is then plastic-coated for corrosion protection.
When installing a battery into the battery tray, be certain that the hold down hardware is properly installed and that the fasteners are tightened to the proper specifications. Improper hold down fastener tightness, whether too loose or too tight, can result in damage to the battery, the vehicle or both. Refer to Battery Hold Downs in the index of this service manual for the location of the proper battery hold down installation procedures, including the proper hold down fastener tightness specifications.
OPERATION
The battery hold down hardware secures the battery to the battery tray in the engine compartment.
The hold down support strap provides an additional anchor point for the upper end of the battery and hold down hardware at the upper radiator crossmember.
This hardware is designed to prevent battery movement during vehicle operation. Unrestrained battery movement during vehicle operation can result in damage to the vehicle, the battery or both.
The hold down T-bolts are installed onto the battery tray before the tray is installed in the engine compartment. The T-bolts are inserted through a hole in a molded formation integral to each side of the battery tray from underneath, with the threaded ends of the bolts extending upward. A plastic push-on retainer is installed over each T-bolt to secure the T-bolts to the battery tray for ease of assembly during the vehicle manufacturing process. However, these plastic push-on retainers are not available or required for service replacement.
The battery hold down bracket is installed across the top of the battery case and over the two upright threaded ends of the T-bolts. The round hole in the support strap is then installed over the threaded end of the forward T-bolt and the slotted hole of the strap is secured by a screw with washer to the upper radiator cross member. A hex nut with coned washer is then installed and tightened onto each of the T-bolts to securely hold down the battery in the battery tray.
More about «Description and operation»:
Battery hold downs