Jeep Cherokee

Service Manual

Battery » Description and operation

Battery thermoguard
DESCRIPTION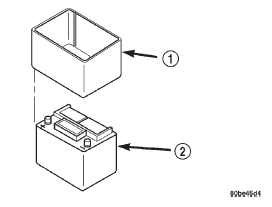 Fig. 4 Battery Thermoguard
1 - THERMOGUARD
2 - BATTERY
A flexible plastic bubble-wrap style thermoguard (Fig. 4) slides over the battery case to enclose the sides of the battery. The thermoguard consists of a heavy black plastic outer skin and two lighter plies of plastic that have been formed into a sheet with hundreds of small air pockets entrapped between them.
The resulting material is very similar to the bubblewrap used to protect items in many parcel packaging and shipping applications.
OPERATION
The thermoguard protects the battery from engine compartment temperature extremes. The air trapped between the plastic plies of the thermoguard create a dead air space, which helps to insulate the sides of the battery case from the surrounding engine compartment air temperature.
More about «Description and operation»:
Battery thermoguard