Jeep Cherokee

Service Manual

Transmission and transfer case » AW-4 automatic transmission » Adjustments

Brake transmission shift interlock cable adjustment
(1) Shift transmission into PARK.
(2) Remove shift lever bezel and console screws.
Raise bezel and console for access to cable.
(3) Pull cable lock button up to release cable (Fig.
301).
(4) Turn ignition switch to LOCK position.
(5) Use a spacer to create a one millimeter gap between the shifter pawl and top of the shift gate.
(6) Pull cable forward. Then release cable and press cable lock button down until it snaps in place.
(7) Check adjustment as follows: (a) Check movement of release shift handle button (floor shift) or release lever (column shift). You should not be able to press button inward or move column lever.
(b) Turn ignition switch to RUN position.
(c) Shifting out of park should not be possible.
(d) Apply the brake and attempt to shift out of PARK. Shifting should be possible.
(e) While the transmission is shifted out of PARK, release the brake and attempt to shift through all gears. Release the shift button at least once during this procedure. The ignition key should not go to the LOCK position.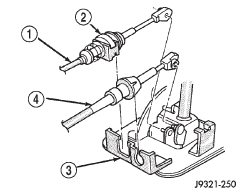 Fig. 301 Park Lock Cable Attac
1 - PARK LOCK CABLE
2 - CABLE LOCK BUTTON
3 - SHIFT LEVER ASSEMBLY
4 - SHIFT CABLE
(f) Return transmission to the PARK position without applying the brake.
(8) Move shift lever back to PARK and check ignition switch operation. You should be able to turn switch to LOCK position and shift lever release button/ lever should not move.
More about «Adjustments»:
Brake transmission shift interlock cable adjustment