Jeep Cherokee

Service Manual

Engine » 2.5L engine » Description and operation

Camshaft
DESCRIPTION
The camshaft is made of cast iron with eight machined lobes and four bearing journals.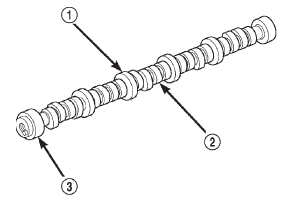 Fig. 7 Camshaft-Typical
1 - CAMSHAFT
2 - LOBES
3 - BEARING JOURNAL
OPERATION
When the camshaft rotates, the lobes actuate the tappets and push rods forcing upward on the rocker arms which applies downward force on the valves.
More about «Description and operation»:
Camshaft