Jeep Cherokee

Service Manual

Clutch » Description and operation

Clutch
DESCRIPTION
The clutch mechanism consists of a flywheel, a single, dry-type disc, and a diaphragm style clutch cover (Fig. 1). A hydraulic linkage is used to operate the clutch release bearing and fork. The flywheel is bolted to the rear flange of the crankshaft. The clutch pressure plate is bolted to the flywheel with the clutch disc located between these two components.
The clutch system provides the mechanical, but still easily detachable, link between the engine and the transmission. The system is designed to ensure that the full torque output of the engine is transfered to the transmission while isolating the transmission from the engine firing pulses to minimize concerns such as gear rattle.
OPERATION
Leverage, clamping force, and friction are what make the clutch work. The disc serves as the friction element and a diaphragm spring and pressure plate provide the clamping force. The clutch pedal, hydraulic linkage, release lever and bearing provide the leverage.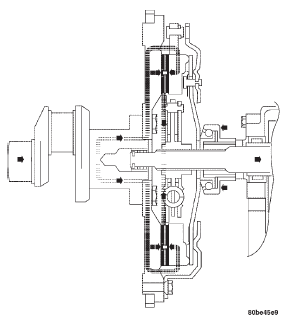 Fig. 1 Engine powerflow
The clutch master cylinder push rod is connected to the clutch pedal. When the clutch pedal is depressed, the slave cylinder is operated by the clutch master cylinder mounted on the dash panel.
The release fork is actuated by the hydraulic slave cylinder mounted on the transmission housing. The release bearing is operated by a release fork pivoting on a ball stud mounted in the transmission housing.
The release bearing then depresses the pressure plate spring fingers, thereby releasing pressure on the clutch disc and allowing the engine crankshaft to spin independently of the transmission input shaft (fig. 2).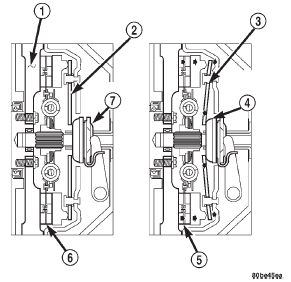 Fig. 2 Clutch Operation
1 - FLYWHEEL
2 - PRESSURE PLATE FINGERS
3 - PIVOT POINT
4 - RELEASE BEARING PUSHED IN
5 - CLUTCH DISC ENGAGED
6 - CLUTCH DISC ENGAGED
7 - RELEASE BEARING
More about «Description and operation»:
Clutch