Jeep Cherokee

Service Manual

Clutch » Description and operation

Clutch pressure plate
DESCRIPTION
The clutch pressure plate assembly is a diaphragm type with a one-piece spring and multiple release fingers (Fig. 5). The pressure plate release fingers are preset during manufacture and are not adjustable.
The assembly also contains the cover, pressure plate, and fulcrum components.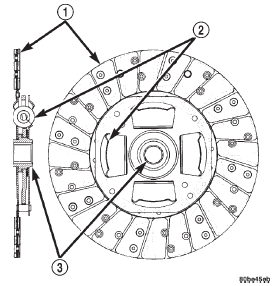 Fig. 4 Clutch Disc-Typical
1 - FACING MATERIAL
2 - DAMPER SPRINGS
3 - HUB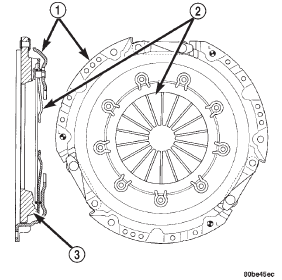 Fig. 5 Clutch Pressure Plate-Typical
1 - COVER
2 - RELEASE FINGERS
3 - PRESSURE PLATE
OPERATION
The clutch pressure plate assembly clamps the clutch disc against the flywheel. When the release bearing is depressed by the shift fork, the pressure exerted on the clutch disc by the pressure plate spring is decreased. As additional force is applied, the bearing presses the diaphragm spring fingers inward on the fulcrums. This action moves the pressure plate rearward relieving clamp force on the disc.
The clutch disc is disengaged and freewheeling at this point.
More about «Description and operation»:
Clutch pressure plate