Jeep Cherokee

Service Manual

Clutch » Description and operation

Clutch release bearing
DESCRIPTION
A conventional release bearing (Fig. 6) is used to engage and disengage the clutch pressure plate assembly. The clutch release bearing is mounted on the transmission front bearing retainer. The bearing is attached to the release fork, which moves the bearing into contact with the clutch cover diaphragm spring.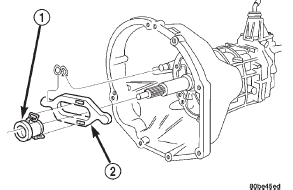 Fig. 6 Clutch Release Bearing
1 - RELEASE BEARING
2 - RELEASE FORK
OPERATION
The release bearing is operated by a release fork in the clutch housing. Slave cylinder force causes the release lever to move the release bearing into contact with the diaphragm spring. As additional force is applied, the bearing presses the diaphragm spring fingers inward on the fulcrums. This action moves the pressure plate rearward relieving clamp force on the disc. Releasing pedal pressure removes clutch hydraulic pressure. The release bearing then moves away from the diaphragm spring which allows the pressure plate to exert clamping force on the clutch disc.
More about «Description and operation»:
Clutch release bearing