Jeep Cherokee

Service Manual

Suspension » Front suspension » Removal and installation

Coil spring/jounce bumper
REMOVAL
Raise and support the vehicle. Position a hydraulic jack under the axle to support it.
Remove the wheel and tire assemblies.
Mark and disconnect the front propeller shaft from the axle.
Remove lower suspension arms mounting nuts and bolts from the axle (Fig. 2).
Remove the stabilizer bar link and shock absorber from the axle.
Remove the track bar from the body rail bracket.
Remove the drag link from the pitman arm.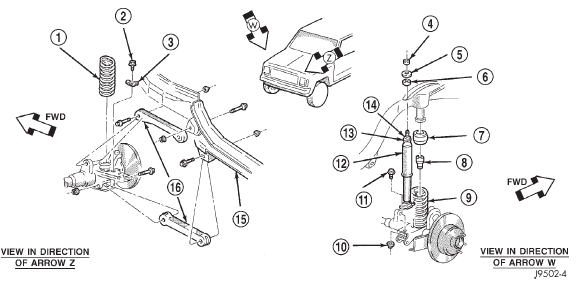 Fig. 2 Coil Spring & Shock Absorber
1 - SPRING
2 - SCREW
3 - SPRING RETAINER
4 - NUT
5 - RETAINER
6 - GROMMET
7 - ISOLATOR
8 - BUMPER
9 - SPRING
10 - NUT
11 - SCREW
12 - SHOCK ABSORBER
13 - RETAINER
14 - GROMMET
15 - FRAME
16 - CONTROL ARM
Lower the axle until the spring is free from the upper mount. Remove the coil spring clip and remove the spring.
Pull jounce bumper out of mount.
INSTALLATION
Install jounce bumper into mount.
Position the coil spring on the axle pad. Install the spring clip and bolt. Tighten bolt to 21 N·m (16 ft. lbs.).
Raise the axle into position until the spring seats in the upper mount.
Install the stabilizer bar links and shock absorbers to the axle bracket.
Install the track bar to the body rail bracket.
Install the lower suspension arms to the axle. Install mounting bolts and nuts finger tight.
Install the front propeller shaft to the axle.
Install the wheel and tire assemblies.
Remove the supports and lower the vehicle.
Tighten lower suspension arms nuts to 115 N·m (85 ft. lbs.).
STEERING KNUCKLE
For service procedures on the steering knuckle and ball joints refer to Group 3 Differentials And Driveline.
More about «Removal and installation»:
Coil spring/jounce bumper