Jeep Cherokee

Service Manual

Brakes » Base brake system » Removal and installation

Combination valve
NOTE: The combination valve is not repairable. The valve is serviced as an assembly only.
REMOVAL
(1) Remove air cleaner cover and hose for access to valve.
(2) Unsnap connector lock tabs and disconnect differential pressure switch wire at combination valve (Fig. 19). Do not pull switch wire to disconnect.
(3) Disconnect brake lines at combination valve (Fig. 20).
(4) Remove mounting nut and remove valve.
INSTALLATION
(1) Install valve and tighten mounting nut to 17 N·m (155 in. lbs.).
(2) Connect brake lines to replacement valve. Start line fittings by hand to avoid cross threading.
(3) Tighten brake line fittings to 14 N·m (124 in.
lbs.).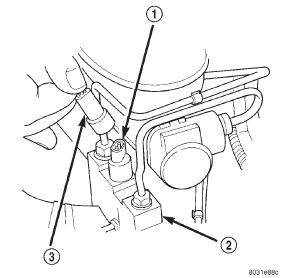 Fig. 19 Differential Pressure Switch
1 - SWITCH TERMINAL
2 - COMBINATION VALVE
3 - WIRE HARNESS CONNECTOR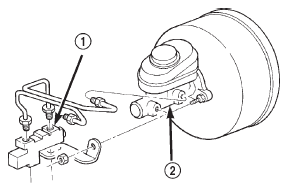 Fig. 20 Combination Valve
1 - COMBINATION VALVE
2 - MASTER CYLINDER
(4) Connect wire to pressure differential switch.
(5) Bleed base brakes.
More about «Removal and installation»:
Combination valve