Jeep Cherokee

Service Manual

Electrically heated systems » Rear window defogger system » Removal and installation

Defogger switch
WARNING: ON VEHICLES EQUIPPED WITH AIRBAGS, REFER TO GROUP 8M - PASSIVE RESTRAINT SYSTEMS BEFORE ATTEMPTING ANY STEERING WHEEL, STEERING COLUMN, OR INSTRUMENT PANEL COMPONENT DIAGNOSIS OR SERVICE. FAILURE TO TAKE THE PROPER PRECAUTIONS COULD RESULT IN ACCIDENTAL AIRBAG DEPLOYMENT AND POSSIBLE PERSONAL INJURY.
(1) Disconnect and isolate the battery negative cable.
(2) Remove the center bezel from the instrument panel. See Instrument Panel Center Bezel in Group 8E - Instrument Panel Systems for the procedures.
(3) Remove the three screws that secure the accessory switch bezel to the instrument panel (Fig. 5).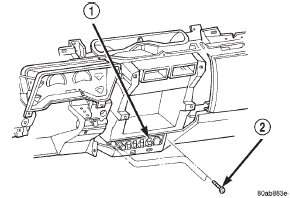 Fig. 5 Accessory Switch Bezel Remove/Install
1 - ACCESSORY SWITCH BEZEL
2 - SCREW
(4) Pull the accessory switch bezel out from the instrument panel far enough to access the wire harness connectors.
(5) Unplug the wire harness connectors from the rear of the accessory switches and the cigar lighter/ power outlet.
(6) Remove the accessory switch bezel from the instrument panel.
(7) With a small thin-bladed screwdriver, gently pry the snap clips at the top and bottom of the rear window defogger switch receptacle on the back of the accessory switch bezel and pull the switch out of the bezel.
(8) Reverse the removal procedures to install. Be certain that both of the switch snap retainers in the receptacle on the back of the accessory switch bezel are fully engaged. Tighten the mounting screws to 2.2 N·m (20 in. lbs.).
More about «Removal and installation»:
Defogger switch