Jeep Cherokee

Service Manual

Steering » Power steering

Description and operation
STEERING SYSTEM
DESCRIPTION
The power steering system has a hydraulic pump.
The pump is a constant flow rate and displacement, vane-type pump. The pump on the 4.0L engine has a reservoir mounted to it (Fig. 1). The 2.5L engine has a remote mounted reservoir.
The steering gear (Fig. 1) used is a recirculating ball type gear with 14:1 gear ratio. A tilt and non-tilt column provide steering input.
NOTE: Right hand drive (RHD) and left hand drive (LHD) service procedures and torque specifications for steering linkage, gear and column are the same.
The power steering pump procedures are different.
Refer to appropriate service procedures regarding each component in the system.
OPERATION
The steering gear acts as a rolling thread between the worm shaft and the rack piston. Power assist is provided by the hydraulic pump. When the steering wheel is turned the worm shaft turns which moves the rack piston. The rack piston movement turns the pitman shaft which is connected to the steering linkage by the pitman arm.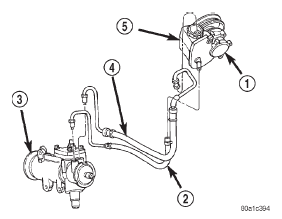 Fig. 1 Power Steering Gear & Pump - 4.0L
1 - 4.0 L PUMP
2 - RETURN HOSE
3 - STEERING GEAR
4 - PRESSURE HOSE
5 - RESERVOIR
More about «Power steering»:
Description and operation