Jeep Cherokee

Service Manual

Brakes » Base brake system » Disassembly and assembly

Disc brake caliper
DISASSEMBLY
(1) Remove brake shoes from caliper.
(2) Drain brake fluid out of caliper.
(3) Take a piece of wood and pad it with one-inch thickness of shop towels. Place this piece in the outboard shoe side of the caliper in front of the piston.
This will cushion and protect caliper piston during removal (Fig. 45).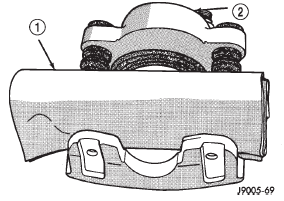 Fig. 45 Padding Caliper Interior
1 - SHOP TOWELS OR CLOTHS
2 - CALIPER
(4) Remove caliper piston with short bursts of low pressure compressed air. Direct air through fluid inlet port and ease piston out of bore (Fig. 46).
CAUTION: Do not blow the piston out of the bore with sustained air pressure. This could result in a cracked piston. Use only enough air pressure to ease the piston out.
WARNING: NEVER ATTEMPT TO CATCH THE PISTON AS IT LEAVES THE BORE. THIS MAY RESULT IN PERSONAL INJURY.
(5) Remove caliper piston dust boot with suitable pry tool (Fig. 47).
(6) Remove caliper piston seal with wood or plastic tool (Fig. 48). Do not use metal tools as they will scratch piston bore.
(7) Remove caliper mounting bolt bushings and boots (Fig. 49).
ASSEMBLY
CAUTION: Dirt, oil, and solvents can damage caliper seals. Insure assembly area is clean and dry.
(1) Lubricate caliper piston bore, new piston seal and piston with clean brake fluid.
(2) Lubricate caliper bushings and interior of bushing boots with silicone grease.
(3) Install bushing boots in caliper, then insert bushing into boot and push bushing into place (Fig.
50).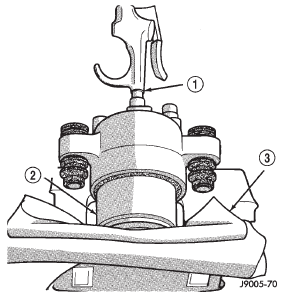 Fig. 46 Caliper Piston Removal
1 - AIR GUN
2 - CALIPER PISTON
3 - PADDING MATERIAL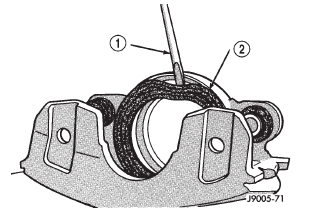 Fig. 47 Caliper Piston Dust Boot Removal
1 - COLLAPSE BOOT WITH PUNCH OR SCREWDRIVER
2 - PISTON DUST BOOT
(4) Install new piston seal into seal groove with finger (Fig. 51).
(5) Install new dust boot on caliper piston and seat boot in piston groove (Fig. 52).
(6) Press piston into caliper bore by hand, use a turn and push motion to work piston into seal (Fig.
53).
(7) Press caliper piston to bottom of bore.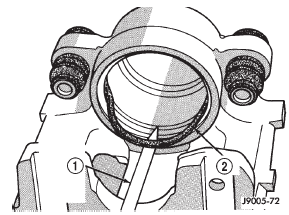 Fig. 48 Piston Seal Removal
1 - REMOVE SEAL WITH WOOD PENCIL OR SIMILAR TOOL
2 - PISTON SEAL

Fig. 49 Mounting Bolt Bushing And Boot
1 - CALIPER SLIDE BUSHING
2 - BOOT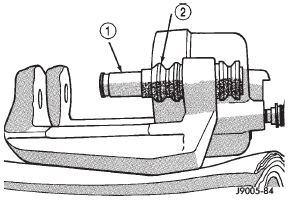 Fig. 50 Bushings And Boots Installation
1 - BUSHING
2 - BOOT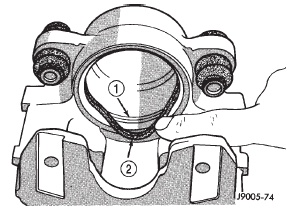 Fig. 51 Piston Seal Installation
1 - SEAL GROOVE
2 - PISTON SEAL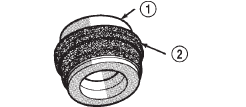 Fig. 52 Dust Boot On Piston
1 - PISTON
2 - DUST BOOT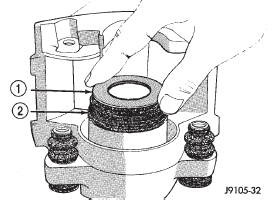 Fig. 53 Caliper Piston Installation
1 - PISTON
2 - BOOT
(8) Seat dust boot in caliper with Installer Tool C-4842 and Tool Handle C-4171 (Fig. 54).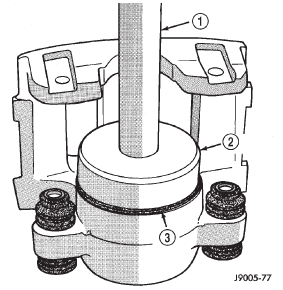 Fig. 54 Piston Dust Boot Installation
1 - HANDLE C-4171
2 - INSTALLER C-4842
3 - DUST BOOT
(9) Replace caliper bleed screw if removed.
More about «Disassembly and assembly»:
Disc brake caliper