Jeep Cherokee

Service Manual

Lamps » Headlamp alignment » Service procedures

Fog lamp adjustmen
Prepare an alignment screen. A properly aligned fog lamp will project a pattern on the alignment screen 100 mm (4 in.) below the fog lamp centerline and straight ahead (Fig. 4).
Rotate the adjustment screw to adjust beam height (Fig. 5).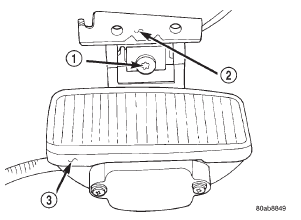 Fig. 5 Fog Lamp Adjustment
1 - ADJUSTMENT SCREW
2 - MOUNTING BRACKET
3 - FOG LAMP
More about «Service procedures»:
Fog lamp adjustmen