Jeep Cherokee

Service Manual

Brakes » Base brake system » Removal and installation

Front disc brake caliper
REMOVAL
(1) Raise and support vehicle.
(2) Remove front wheel and tire assembly.
(3) Drain small amount of fluid from master cylinder brake reservoir with suction gun.
(4) Bottom caliper piston in bore with C-clamp.
Position clamp screw on outboard brake shoe and clamp frame on rear of caliper (Fig. 24). Do not allow clamp screw to bear directly on outboard shoe retainer spring. Use wood or metal spacer between shoe and clamp screw.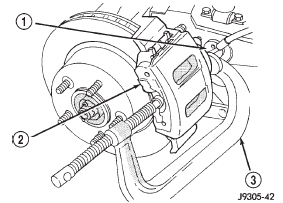 Fig. 24 Bottoming Caliper Piston With C-Clamp
1 - CALIPER BOSS
2 - OUTBOARD BRAKESHOE
3 - C-CLAMP
(5) Remove brake hose mounting bolt and discard washers (Fig. 25).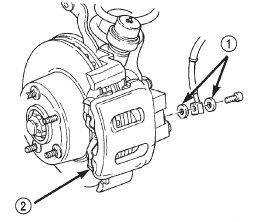 БЮ Fig. 25 Brake Hose And Bolt
1 - FITTING WASHERS
2 - CALIPERS
(6) Remove caliper mounting bolts (Fig. 26).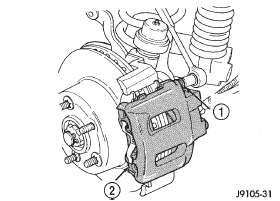 Fig. 26 Caliper Mounting Bolts
1 - CALIPER MOUNTING BOLT (2)
2 - CALIPER
(7) Tilt top of caliper outward with pry tool if necessary (Fig. 27) and remove caliper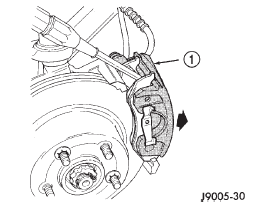 Fig. 27 Caliper Removal
1 - TILT CALIPER OUTBOARD TO REMOVE
(8) Remove caliper from vehicle
INSTALLATION
(1) Clean brake shoe mounting ledges with wire brush and apply light coat of Mopar multi-mileage grease to surfaces (Fig. 28).
(2) Install caliper by position notches at lower end of brake shoes on bottom mounting ledge. Then rotate caliper over rotor and seat notches at upper end of shoes on top mounting ledge (Fig. 29).
(3) Coat caliper mounting bolts with silicone grease. Then install and tighten bolts to 15 N·m (11 ft. lbs.).
CAUTION: If new caliper bolts are being installed, or if the original reason for repair was a drag/pull condition, check caliper bolt length before proceeding.
Bolts must not have a shank length greater than 67.6 mm (2.66 in.) (Fig. 30).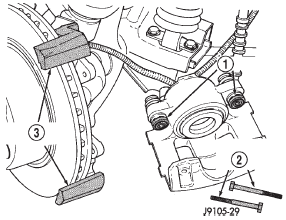 Fig. 28 Caliper Lubrication Points
1 - BUSHINGS
2 - CALIPER MOUNTING BOLTS
3 - MOUNTING LEDGES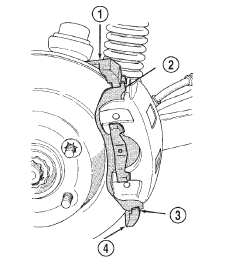 Fig. 29 Caliper Installation
1 - TOP LEDGE
2 - BRAKESHOE TAB ON LEDGE OUTER SURFACE
3 - LEDGE SEATED IN BRAKESHOE NOTCH
4 - BOTTOM LEDGE
(4) Install brake hose to caliper with new seal washers and tighten fitting bolt to 31 N·m (23 ft.
lbs.).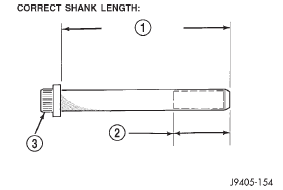 Fig. 30 Mounting Bolt Dimensions
1 - 67 mm (6 0.6 mm) 2.637 in. (6 0.0236 in.)
2 - 22 mm (0.866 in.) THREAD LENGTH
3 - CALIPER BOLT
CAUTION: Verify brake hose is not twisted or kinked before tightening fitting bolt.
(5) Bleed base brake system.
(6) Install wheel and tire assemblies.
(7) Remove supports and lower vehicle.
(8) Verify firm pedal before moving vehicle.
More about «Removal and installation»:
Front disc brake caliper