Jeep Cherokee

Service Manual

Brakes » Antilock brakes » Removal and installation

Front wheel speed sensor
REMOVAL
(1) Raise vehicle and turn wheel outward for easier access to sensor.
(2) Remove sensor wire from mounting brackets.
(3) Clean sensor and surrounding area with shop towel before removal.
(4) Remove bolt attaching sensor to steering knuckle and remove sensor (Fig. 6).
(5) Remove sensor wire from brackets on body and steering knuckle.
(6) Unseat sensor wire grommet in wheel house panel.
(7) In engine compartment, disconnect sensor wire connector at harness plug. Then remove sensor and wire.
INSTALLATION
(1) If original sensor will be installed, wipe all traces of old spacer material off sensor pickup face.
Use a dry shop towel for this purpose.
(2) Apply Mopar Lock N' Seal or Loctite t 242 to bolt that secures sensor in steering knuckle. Use new sensor bolt if original bolt is worn or damaged.
(3) Position sensor on steering knuckle. Seat sensor locating tab in hole in knuckle and install sensor attaching bolt finger tight.
(4) Tighten sensor attaching bolt to 4.7 N·m (42 in.
lbs.).
(5) If original sensor has been installed, check sensor air gap. Air gap should be 0.36 to 1.5 mm (0.014 to 0.059 in.). If gap is incorrect, sensor is either loose, or damaged.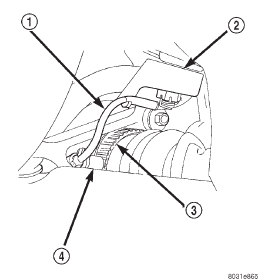 Fig. 6 Front Wheel Speed Sensor
1 - WHEEL SPEED SENSOR PIGTAIL
2 - STEERING KNUCKLE
3 - TONE WHEEL
4 - FRONT WHEEL SPEED SENSOR
(6) Secure sensor wire to steering knuckle and body brackets.
(7) Route sensor wire forward and behind shock absorber. Then attach sensor wire to spring seat bracket with grommets on sensor wire.
(8) Route sensor wire to outer sill bracket. Remove all twists or kinks from wire.
(9) Attach sensor wire to sill bracket with grommet.
Be sure wire is free of twists and kinks.
(10) Verify sensor wire routing. Wire should loop forward and above sill bracket. Loose end of wire should be below sill bracket and towards brake hose.
(11) Seat sensor wire grommet in body panel and clip wire to brake line at grommet location.
(12) Connect sensor wire to harness in engine compartment.
More about «Removal and installation»:
Front wheel speed sensor