Jeep Cherokee

Service Manual

Fuel system » Fuel delivery system » Description and operation

Fuel pump module
DESCRIPTION
The fuel pump module is installed in the top of the fuel tank (Fig. 1) or (Fig. 2). The fuel pump module contains the following components:
A combination fuel filter/fuel pressure regulator
A separate fuel pick-up filter (strainer)
An electric fuel pump
A threaded locknut to retain module to tank
A gasket between tank flange and module
Fuel gauge sending unit (fuel level sensor)
Fuel supply tube (line) connection
The fuel gauge sending unit, pick-up filter and fuel filter/fuel pressure regulator may be serviced separately.
If the electrical fuel pump requires service, the entire fuel pump module must be replaced.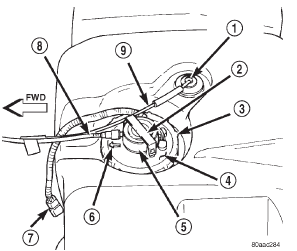 Fig. 1 Fuel Tank/Fuel Pump Module (Top View)
1 - ROLLOVER VALVE
2 - RETAINER CLAMP
3 - LOCKNUT
4 - FUEL PUMP MODULE
5 - FUEL FILTER/FUEL PRESSURE REGULATOR
6 - ALIGNMENT ARROW
7 - PIGTAIL HARNESS
8 - FUEL SUPPLY TUBE
9 - EVAP CANISTER VENT LINE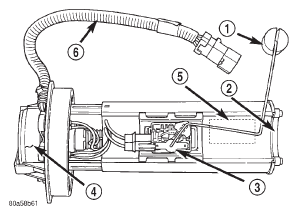 Fig. 2 Fuel Pump Module Components
1 - FUEL GAUGE FLOAT
2 - PICK-UP FILTER
3 - FUEL GAUGE SENDING UNIT
4 - FUEL FILTER/FUEL PRESSURE REGULATOR
5 - ELECTRIC FUEL PUMP
6 - PIGTAIL WIRING HARNESS
OPERATION
Refer to Fuel Pump, Fuel Filter/Fuel Pressure Regulator and Fuel Gauge Sending Unit.
More about «Description and operation»:
Fuel pump module