Jeep Cherokee

Service Manual

Fuel system » Fuel delivery system » Description and operation

Fuel rail/fuel damper-4.0L engine
DESCRIPTION
The fuel rail is mounted to the intake manifold (Fig. 6). It is used to mount the fuel injectors to the engine. On the 4.0L 6-cylinder engine, a fuel damper is located near the center of the fuel rail (Fig. 6).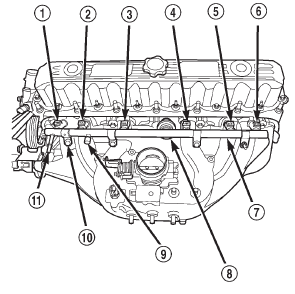 Fig. 6 Fuel Rail/Fuel Damper-4.0L Engine
1 - INJ. #1
2 - INJ. #2
3 - INJ. #3
4 - INJ. #4
5 - INJ. #5
6 - INJ. #6
7 - FUEL INJECTOR RAIL
8 - FUEL DAMPER
9 - PRESSURE TEST PORT CAP
10 - MOUNTING BOLTS (4)
11 - QUICK-CONNECT FITTING
OPERATION
The fuel injector rail supplies the necessary fuel to each individual fuel injector.
The fuel damper is used only to help control fuel pressure pulsations. These pulsations are the result of the firing of the fuel injectors. It is not used as a fuel pressure regulator. The fuel pressure regulator is not mounted to the fuel rail on any engine. It is located on the fuel tank mounted fuel pump module Refer to Fuel Filter/Fuel Pressure Regulator in this group for information.
The fuel rail is not repairable.
More about «Description and operation»:
Fuel rail/fuel damper-4.0L engine