Jeep Cherokee

Owners Manual

Understanding the features of your vehicle » Mirrors

Heated Mirrors - If Equipped

These mirrors are heated to melt frost or ice. This feature can be activated whenever you turn on the rear window defroster (if equipped). Refer to "Rear Window Features" in "Understanding The Features Of Your Vehicle" for further information.
Illuminated Vanity Mirrors - If Equipped
An illuminated vanity mirror is on each sun visor. To use the mirror, rotate the sun visor down and swing the mirror cover upward. The lights will turn on automatically.
Closing the mirror cover will turn off the light.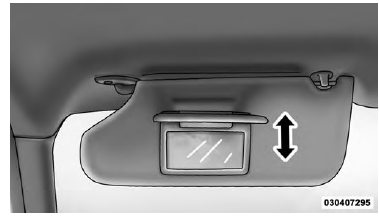 Illuminated Vanity Mirror
Sun Visor "Slide-On-Rod" Feature - If Equipped
The sun visor "Slide-On-Rod" feature allows for additional flexibility in positioning the sun visor to block out the sun.
1. Fold down the sun visor.
2. Unclip the visor from the center clip.
3. Pull the sun visor toward the inside rearview mirror to extend it.
More about «Mirrors»:
Heated Mirrors - If Equipped