Jeep Cherokee

Service Manual

Electrically heated systems » Heated seat system » Description and operation

Heated seat switch
The heated seat switch assembly is located on the center console where the ashtray is normally located (Fig. 1). The two momentary, two-directional rocker switches, one switch for each front seat, provide a resistor-multiplexed signal to the Seat Heat Interface Module (SHIM). Each switch has center NEUTRAL, and momentary LO and HI positions so that both the driver and the front seat passenger can select a preferred seat heating mode.
Each switch has two telltales (LED's) which indicate the mode of the heater of the respective seat.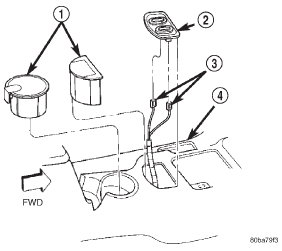 Fig. 1 Heated Seat Switch Location
1 - ASH RECEIVER
2 - HEATED SEAT SWITCHES & BEZEL
3 - WIRE HARNESS CONNECTORS
4 - FLOOR CONSOLE
The switches also have LED's which provide backlighting when the ignition switch is in the ON position.
The LED's cannot be repaired. If the LED is faulty, the individual switch must be replaced.
More about «Description and operation»:
Heated seat switch