Jeep Cherokee

Service Manual

Body » Body component service » Removal and installation

Hood release cable
REMOVAL
(1) Drill out bellcrank to hood rivet heads and remove rivets (Fig. 6).
(2) Disconnect bellcrank from latch rod and hood release cable. Remove bellcrank from hood.
(3) Disconnect hood release cable from clips on hood.
(4) Remove left cowl side trim panel.
(5) Remove cable bracket screws from cowl side panel.
(6) Route cable through dash panel and remove it from under instrument panel.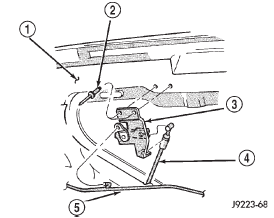 Fig. 6 Hood Release Cable Bellcrank
1 - HOOD INNER PANEL
2 - RIVET
3 - BELLCRANK
4 - LATCH RELEASE CABLE
5 - LATCH CONNECTING ROD
INSTALLATION
(1) Insert replacement cable end through hole in dash panel into engine compartment.
(2) Route cable forward and seat grommet in dash panel.
(3) Position cable bracket on cowl side panel and install screws.
(4) Install left cowl side trim panel.
(5) Connect cable and latch rod to bellcrank.
(6) Position bellcrank on hood and install rivets.
(7) Attach cable to clips.
(8) Test release cable for proper operation.
More about «Removal and installation»:
Hood release cable