Jeep Cherokee

Service Manual

Steering » Power steering gear » Disassembly and assembly

Housing end plug
DISASSEMBLY
(1) Unseat and remove retaining ring from groove with a punch through the hole in the end of the housing (Fig. 2).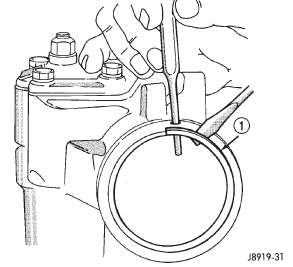 Fig. 2 End Plug Retaining Ring
1 - RETAINING RING
(2) Slowly rotate stub shaft with 12 point socket COUNTER-CLOCKWISE to force the end plug out from housing.
CAUTION: Do not turn stub shaft any further than necessary. The rack piston balls will drop out of the rack piston circuit if the stub shaft is turned too far.
(3) Remove O-ring from the housing (Fig. 3).
ASSEMBLY
(1) Lubricate O-ring with power steering fluid and install into the housing.
(2) Install end plug by tapping the plug lightly with a plastic mallet into the housing.
(3) Install retaining ring so one end of the ring covers the housing access hole (Fig. 4).
More about «Disassembly and assembly»:
Housing end plug