Jeep Cherokee

Service Manual

Clutch » Description and operation

Hydraulic clutch linkage
DESCRIPTION
The hydraulic linkage consists of a clutch master cylinder with integral reservoir, a clutch slave cylinder and an interconnecting fluid line (Fig. 7).
The clutch master cylinder push rod is connected to the clutch pedal. The slave cylinder push rod is connected to the clutch release fork. The master cylinder is mounted on the driver side of the dash panel adjacent to the brake master cylinder and booster assembly.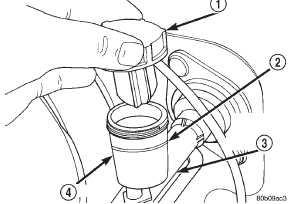 Fig. 7 Clutch Master Cylinder
1 - CAP
2 - FILL LINE
3 - CLUTCH MASTER CYLINDER
4 - RESERVOIR
OPERATION
The clutch linkage uses hydraulic pressure to operate the clutch. Depressing the clutch pedal develops fluid pressure in the clutch master cylinder. This pressure is transmitted to the slave cylinder through a connecting line. In turn, the slave cylinder operates the clutch release lever.
Slave cylinder force causes the release lever to move the release bearing into contact with the diaphragm spring. As additional force is applied, the bearing presses the diaphragm spring fingers inward on the fulcrums. This action moves the pressure plate rearward relieving clamp force on the disc.
More about «Description and operation»:
Hydraulic clutch linkage