Jeep Cherokee

Service Manual

Brakes » Antilock brakes » Removal and installation

Hydraulic control unit/controller antilock brakes
REMOVAL
(1) Remove negative battery cable from the battery.
(2) Pull up on the CAB harness connector release (Fig. 4) and remove connector.
(3) Remove brake lines from the HCU.
(4) Remove HCU/CAB mounting nuts and bolt (Fig. 5) and remove HCU/CAB.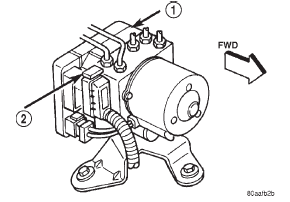 Fig. 4 CAB Harness Connector Release
1 - CAB
2 - CAB HARNESS RELEASE
INSTALLATION
(1) Install HCU/CAB on the mounting studs.
(2) Install mounting nuts and bolt. Tighten to 11.5 N·m (102 in. lbs.).
(3) Install brake lines to the HCU and tighten to 19 N·m (170 in. lbs.).
(4) Install wiring harness connector to the CAB and push down on the release to secure the connector.
(5) Install negative battery cable to the battery.
(6) Bleed ABS brake system.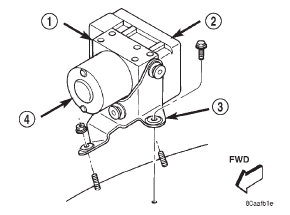 Fig. 5 HCU/CAB Mounting
1 - HCU
2 - CAB
3 - HCU/CAB BRACKET
4 - MOTOR
More about «Removal and installation»:
Hydraulic control unit/controller antilock brakes