Jeep Cherokee

Service Manual

Ignition system » Removal and installation

Ignition coil-2.5L engine
REMOVAL
The ignition coil is an epoxy filled type. If the coil is replaced, it must be replaced with the same type.
On the 2.5L 4-cylinder engine, the ignition coil is mounted to a bracket on side of engine (to rear of distributor) (Fig. 20).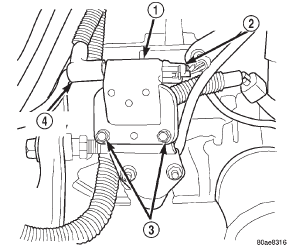 Fig. 20 Ignition Coil-2.5L Engine
1 - IGNITION COIL
2 - ELECTRICAL CONNECTOR
3 - MOUNTING BOLTS (2)
4 - SECONDARY CABLE
(1) Disconnect ignition coil secondary cable from ignition coil.
(2) Disconnect engine harness connector from ignition coil.
(3) Remove ignition coil mounting bolts (nuts are used on back side of bracket on some coils).
(4) Remove coil from vehicle.
INSTALLATION
(1) Install ignition coil to bracket on cylinder block with mounting bolts (and nuts if equipped). If equipped with nuts and bolts, tighten to 11 N·m (100 in. lbs.) torque. If equipped with bolts only, tighten to 5 N·m (50 in. lbs.) torque.
(2) Connect engine harness connector to coil.
(3) Connect ignition coil cable to ignition coil.
More about «Removal and installation»:
Ignition coil-2.5L engine