Jeep Cherokee

Service Manual

Ignition system » Description and operation

Ignition coil-4.0L engine
DESCRIPTION
A one-piece coil rail assembly containing three individual coils is used on the 4.0L 6-cylinder engine (Fig. 2). The coil rail must be replaced as one assembly.
The bottom of the coil is equipped with 6 individual rubber boots (Fig. 2) to seal the 6 spark plugs to the coil. Inside each rubber boot is a spring. The spring is used for a mechanical contact between the coil and the top of the spark plug. These rubber boots and springs are a permanent part of the coil and are not serviced separately.
(1) The coil is bolted directly to the cylinder head (Fig. 3). One electrical connector (located at rear of coil) is used for all three coils.
OPERATION
Although cylinder firing order is the same as 4.0L Jeep engines of previous years, spark plug firing is not. The 3 coils dual-fire the spark plugs on cylinders 1-6, 2-5 and/or 3-4. When one cylinder is being fired (on compression stroke), the spark to the opposite cylinder is being wasted (on exhaust stroke).
Battery voltage is supplied to the three ignition coils from the ASD relay. The Powertrain Control Module (PCM) opens and closes the ignition coil ground circuit for ignition coil operation.
Base ignition timing is not adjustable. By controlling the coil ground circuit, the PCM is able to set the base timing and adjust the ignition timing advance. This is done to meet changing engine operating conditions.

Fig. 2 Ignition Coil Assembly-4.0L 6-Cylinder Engine
1 - CYL. #6
2 - CYL. #5
3 - CYL. #4
4 - CYL. #3
5 - CYL. #2
6 - CYL. #1
7 - COILS (3)
8 - MOUNTING BOLTS (4)
9 - BOLT BASES (4)
10 - RUBBER BOOTS (6)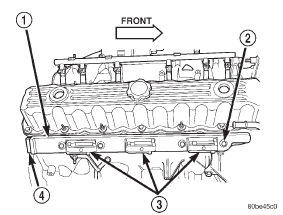 Fig. 3 Coil Location-4.0L Engine
1 - COIL RAIL
2 - COIL MOUNTING BOLTS (4)
3 - COIL
4 - COIL ELECTRICAL CONNECTION
The ignition coil is not oil filled. The windings are embedded in an epoxy compound. This provides heat and vibration resistance that allows the ignition coil to be mounted on the engine.
Because of coil design, spark plug cables (secondary cables) are not used. The cables are integral within the coil rail.
More about «Description and operation»:
Ignition coil-4.0L engine