Jeep Cherokee

Owners Manual

Things to know before starting your vehicle » A word about your keys

Ignition Node Module (IGNM) - If Equipped
The Ignition Node Module (IGNM) operates similar to an ignition switch. It has four operating positions, three with detents and one that is spring-loaded. The detent positions are OFF, ACC, and ON/RUN. The START position is a spring-loaded momentary contact position. When released from the START position, the switch automatically returns to the ON/RUN position.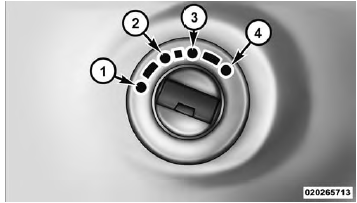 Ignition Node Module (IGNM)
1 - OFF
2 - ACC (ACCESSORY)
3 - ON/RUN
4 - START
More about «A word about your keys»:
Ignition Node Module (IGNM) - If Equipped