Jeep Cherokee

Service Manual

Transmission and transfer case » NV231 transfer case » Description and operation

Lubricant and fill level
DESCRIPTION
Recommended lubricant for the NV231 transfer case is Mopart Dexron II, or ATF Plus 3, type 7176.
Approximate lubricant fill capacity is 1.2 liters (2.5 pints).
The fill and drain plugs are both in the rear case (Fig. 2). Correct fill level is to the bottom edge of the fill plug hole. Be sure the vehicle is level to ensure an accurate fluid level check.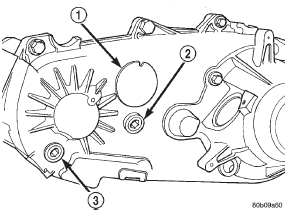 Fig. 2 Fill/Drain Plug Locations
1 - I. D. TAG
2 - FILL PLUG
3 - DRAIN PLUG
More about «Description and operation»:
Lubricant and fill level