Jeep Cherokee

Service Manual

Lamps » Lamp bulb service

Map reading lamp bulb
REMOVAL
(1) Insert a flat blade screwdriver in slot at front of lens (Fig. 10).
(2) Rotate the screwdriver until lens snaps out of the housing.
(3) Remove lens from housing.
(4) Remove bulb from terminals.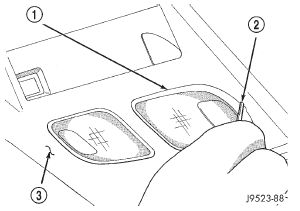 Fig. 10 Reading Lamp Bulb
1 - LENS
2 - FLAT BLADE
3 - CONSOLE
INSTALLATION
(1) Insert bulb into reading lamp terminals.
(2) Replace lens by holding lens level and pushing rearward into housing.
(3) Push lens up to snap into housing.
More about «Lamp bulb service»:
Map reading lamp bulb