Jeep Cherokee

Service Manual

Brakes » Base brake system » Diagnosis and testing

Master cylinder/power booster
(1) Start engine and check booster vacuum hose connections. A hissing noise indicates vacuum leak.
Correct any vacuum leak before proceeding.
(2) Stop engine and shift transmission into Neutral.
(3) Pump brake pedal until all vacuum reserve in booster is depleted.
(4) Press and hold brake pedal under light foot pressure. The pedal should hold firm, if the pedal falls away master cylinder is faulty (internal leakage).
(5) Start engine and note pedal action. It should fall away slightly under light foot pressure then hold firm. If no pedal action is discernible, power booster, vacuum supply, or vacuum check valve is faulty. Proceed to the POWER BOOSTER VACUUM TEST.
(6) If the POWER BOOSTER VACUUM TEST passes, rebuild booster vacuum reserve as follows: Release brake pedal. Increase engine speed to 1500 rpm, close the throttle and immediately turn off ignition to stop engine.
(7) Wait a minimum of 90 seconds and try brake action again. Booster should provide two or more vacuum assisted pedal applications. If vacuum assist is not provided, booster is faulty.
POWER BOOSTER VACUUM TEST
(1) Connect vacuum gauge to booster check valve with short length of hose and T-fitting (Fig. 7).
(2) Start and run engine at curb idle speed for one minute.
(3) Observe the vacuum supply. If vacuum supply is not adequate, repair vacuum supply.
(4) Clamp hose shut between vacuum source and check valve.
(5) Stop engine and observe vacuum gauge.
(6) If vacuum drops more than one inch HG (33 millibars) within 15 seconds, booster diaphragm or check valve is faulty.
POWER BOOSTER CHECK VALVE TEST
(1) Disconnect vacuum hose from check valve.
(2) Remove check valve and valve seal from booster.
(3) Use a hand operated vacuum pump for test.
(4) Apply 15-20 inches vacuum at large end of check valve (Fig. 8).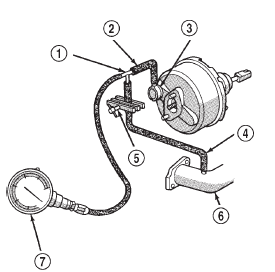 Fig. 7 Typical Booster Vacuum Test Connections
1 - TEE FITTING
2 - SHORT CONNECTING HOSE
3 - CHECK VALVE
4 - CHECK VALVE HOSE
5 - CLAMP TOOL
6 - INTAKE MANIFOLD
7 - VACUUM GAUGE
(5) Vacuum should hold steady. If gauge on pump indicates vacuum loss, check valve is faulty and should be replaced.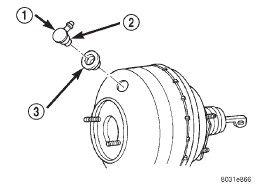 Fig. 8 Vacuum Check Valve And Seal
1 - BOOSTER CHECK VALVE
2 - APPLY TEST VACUUM HERE
3 - VALVE SEAL
More about «Diagnosis and testing»:
Master cylinder/power booster