Jeep Cherokee

Service Manual

Transmission and transfer case » AW-4 automatic transmission » Removal and installation

Oil pump seal
REMOVAL
(1) Remove converter.
(2) Remove old seal. Use blunt punch to collapse seal and pry seal out of pump housing. Do not scratch or damage seal bore.
INSTALLATION
(1) Lubricate lip of new seal with transmission fluid and install seal in pump with tool 7549 (Fig.
94).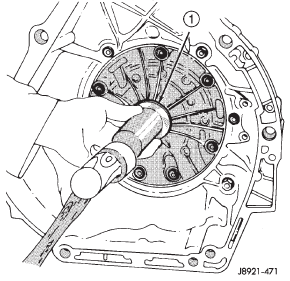 Fig. 94 Installing Oil Pump Seal
1 - PUMP SEALER INSTALLER
(2) Lubricate converter drive hub with transmission fluid.
(3) Align and install converter in oil pump.
More about «Removal and installation»:
Oil pump seal