Jeep Cherokee

Service Manual

Brakes » Base brake system » Removal and installation

Power brake booster
REMOVAL
(1) On RHD vehicles remove the coolant reserve/ overflow tank. Refer to Group 7 Cooling System.
(2) Disconnect brake lines at master cylinder.
(3) Disconnect wire at combination valve differential pressure switch.
(4) Remove nut mounting combination valve bracket to booster studs and remove valve.
(5) Remove nuts mounting master cylinder to booster studs and remove cylinder.
(6) Disconnect vacuum hose from booster check valve.
(7) Remove knee blocker under the steering column.
(8) Remove retaining clip that secures booster push rod to brake pedal (Fig. 22).
(9) Remove nuts attaching booster to passenger compartment side of dash panel (Fig. 23).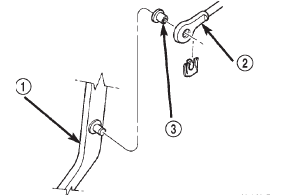 Fig. 22 Booster Push Rod
1 - BRAKE PEDAL
2 - BOOSTER ROD
3 - BUSHING
(10) In engine compartment, slide booster studs out of dash panel, tilt booster upward, and remove booster from engine compartment.
(11) Remove dash seal from booster.
INSTALLATION
(1) Install dash seal on booster.
(2) Align and position booster on dash panel.
(3) In passenger compartment, install booster mounting nuts. Tighten nuts just enough to hold booster in place.
(4) Slide booster push rod onto the brake pedal.
Then secure push rod to pedal pin with retaining clip.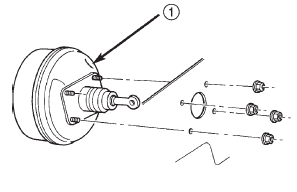 Fig. 23 Booster Mounting
1 - BOOSTER
NOTE: Lubricate the pedal pin and bushing with Mopar multi-mileage grease before installation.
(5) Tighten booster mounting nuts to 39 N·m (29 ft. lbs.).
(6) Install the knee blocker.
(7) If original master cylinder is being installed, check condition of seal at rear of master cylinder.
Replace seal if cut, or torn.
(8) Clean cylinder mounting surface of brake booster. Use shop towel wetted with brake cleaner for this purpose. Dirt, grease, or similar materials will prevent proper cylinder seating and could result in vacuum leak.
(9) Align and install master cylinder on booster studs. Install mounting nuts and tighten to 17.5 N·m (155 in. lbs.).
(10) Connect vacuum hose to booster check valve.
(11) Connect and secure brake lines to combination valve and master cylinder. Start all brake line fittings by hand to avoid cross threading.
(12) Install combination valve on booster studs.
Tighten bracket mounting nuts to 17.5 N·m (155 in.
lbs.).
(13) Connect wire to combination valve switch.
(14) On RHD vehicles install the coolant reserve/ overflow tank. Refer to Group 7 Cooling System.
(15) Fill and bleed base brake system.
(16) Verify proper brake operation before moving vehicle.
More about «Removal and installation»:
Power brake booster