Jeep Cherokee

Service Manual

Cooling system » Diagnosis and testing

Radiator cap-to-filler neck seal-pressure relief check
With radiator cap installed on filler neck, remove coolant reserve/ overflow tank hose from nipple on filler neck. Connect a hand operated vacuum pump to nipple. Operate pump until a reading of 47-to-61 kPa (14- to-18 in. Hg) appears on gauge. If the reading stays steady, or drops slightly and then remains steady, the pressure valve seal is good. Replace radiator cap if reading does not hold.
WARNING: THE WARNING WORDS -DO NOT OPEN HOT- ON THE RADIATOR PRESSURE CAP (Fig. 19) ARE A SAFETY PRECAUTION. WHEN HOT, PRESSURE BUILDS UP IN COOLING SYSTEM. TO PREVENT SCALDING OR INJURY, THE RADIATOR CAP SHOULD NOT BE REMOVED WHILE THE SYSTEM IS HOT AND/OR UNDER PRESSURE.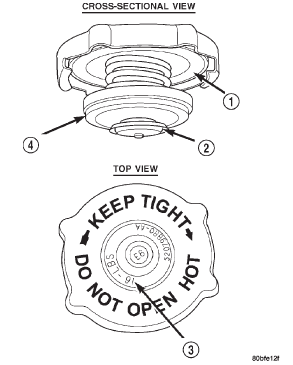 Fig. 19 Radiator Pressure Cap
1 - FILLER NECK SEAL
2 - VACUUM VENT VALVE
3 - PRESSURE RATING
4 - PRESSURE VALVE
There is no need to remove the radiator cap except for the following purposes: (1) To check and adjust antifreeze freeze point.
(2) To refill system with new antifreeze.
(3) For conducting service procedures.
(4) When checking for vacuum leaks.
WARNING: IF VEHICLE HAS BEEN RUN RECENTLY, WAIT AT LEAST 15 MINUTES BEFORE REMOVING RADIATOR CAP. WITH A RAG, SQUEEZE RADIATOR UPPER HOSE TO CHECK IF SYSTEM IS UNDER PRESSURE. PLACE A RAG OVER THE CAP AND WITHOUT PUSHING DOWN, ROTATE CAP COUNTER-CLOCKWISE TO THE FIRST STOP.
ALLOW FLUID TO ESCAPE THROUGH OVERFLOW HOSE INTO COOLANT RESERVE/OVERFLOW TANK. SQUEEZE RADIATOR UPPER HOSE TO DETERMINE WHEN PRESSURE HAS BEEN RELEASED. WHEN COOLANT AND STEAM STOP BEING PUSHED INTO TANK AND SYSTEM PRESSURE DROPS, REMOVE RADIATOR CAP COMPLETELY.
More about «Diagnosis and testing»:
Radiator cap-to-filler neck seal-pressure relief check