Jeep Cherokee

Owners Manual

Understanding the features of your vehicle » Seats » Head Restraints

Rear Head Restraints
The rear outboard head restraints have three positions Up, Mid and Down. The center head restraint has only two positions, Up and Down. When the center seat is being occupied the head restraint should be in the raised position. When there is no occupant in the center seat the head restraint can be lowered for maximum visibility for the driver.
To raise the head restraint, pull upward on the head restraint. To lower the head restraint, push the adjustment button, located at the base of the head restraint, and push downward on the head restraint.
NOTE: To remove the head restraint, raise it as far as it can go then push the release button and the adjustment button at the base of each post while pulling the head restraint up. To reinstall the head restraint, put the head restraint posts into the holes and push downward. Then adjust the head restraint to the appropriate height.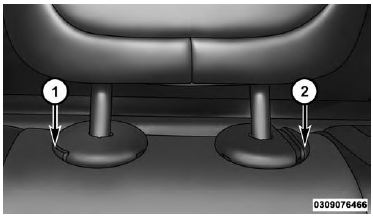 Outboard Head Restraint
1 - Release Button
2 - Adjustment Button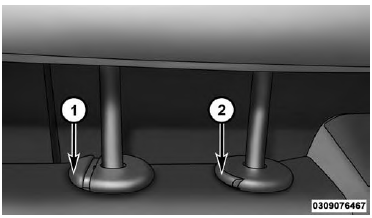 Center Head Restraint
1 - Adjustment Button
2 - Release Button
WARNING!
ALL the head restraints MUST be reinstalled in the vehicle to properly protect the occupants. Follow the re-installation instructions above prior to operating the vehicle or occupying a seat.
More about «Head Restraints»:
Rear Head Restraints