Jeep Cherokee

Service Manual

Brakes » Base brake system » Removal and installation

Rear parking brake cables
REMOVAL
(1) Raise vehicle and loosen equalizer nuts until rear cables are slack.
(2) Disengage cables from equalizer and compress cable retainers with a worm drive hose clamp.
(3) Remove cables from the cable bracket (Fig. 36).
(4) Remove rear wheel and brake drums.
(5) Remove secondary brake shoe and disconnect cable from lever on brake shoe.
(6) Compress cables retainer with worm drive hose clamp (Fig. 37) and remove cables from backing plates.
INSTALLATION
(1) Install new cables in backing plates. Be sure cable retainer is seated.
(2) Attach cable to lever on brake shoe and install brake shoe on backing plate.
(3) Adjust brake shoes to drum with brake gauge.
(4) Install brake drums and wheels.
(5) Install cables into the cable bracket and insure retainers are seated in the bracket.
(6) Engage the cable ends into the equalizer and install equalizer nut.
(7) Adjust parking brakes.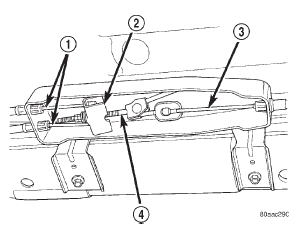 Fig. 36 Parking Brake Cables
1 - REAR CABLES
2 - EQUALIZER
3 - FRONT CABLE
4 - TENSIONER ROD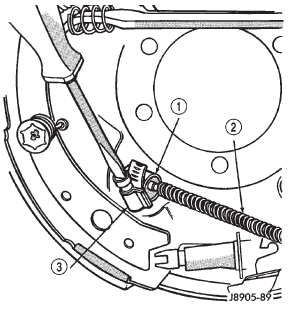 Fig. 37 Cable Retainer
1 - CABLE RETAINER
2 - REAR CABLE
3 - WORM DRIVE HOSE CLAMP
More about «Removal and installation»:
Rear parking brake cables