Jeep Cherokee

Owners Manual

Understanding the features of your vehicle » Rear window features

Rear Window Wiper/Washer
The rear wiper/washer controls are located on the windshield wiper/washer lever on the right side of the steering column. The rear wiper/washer is operated by rotating a switch, located at the middle of the lever.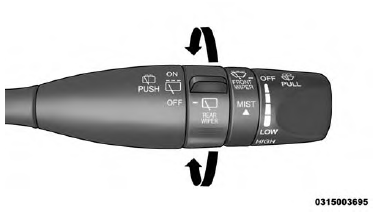 Rear Wiper/Washer Control

Rotate the center portion of the lever upward to the first detent for intermittent operation and to the second detent for continuous rear wiper operation.

To use the washer, push the lever forward and hold while spray is desired. If the lever is pushed while in the intermittent setting, the wiper will turn on and operate for several wipe cycles after the end of the lever is released, and then resume the intermittent interval previously selected.
If the lever is pushed while the wiper is in the off position, the wiper will operate for several wipe cycles, then turn off.
NOTE: As a protective measure, the pump will stop if the switch is held for more than 20 seconds. Once the lever is released the pump will resume normal operation.
If the rear wiper is operating when the ignition is turned OFF, the wiper will automatically return to the "park" position.
More about «Rear window features»:
Rear Window Wiper/Washer