Jeep Cherokee

Owners Manual

Understanding the features of your vehicle » Seats » Power Seats - If Equipped

Reclining The Seatback Forward Or Rearward
The seatback can be reclined both forward and rearward.
Push the seat recliner switch forward or rearward. The seatback will move in the direction of the switch. Release the switch when the desired position has been reached.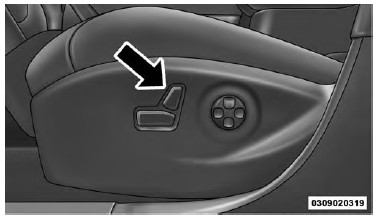 Power Seat Recliner Switch
WARNING!
Do not ride with the seatback reclined so that the shoulder belt is no longer resting against your chest.
In a collision you could slide under the seat belt, which could result in serious injury or death.
More about «Power Seats - If Equipped»:
Reclining The Seatback Forward Or Rearward