Jeep Cherokee

Service Manual

Lubrication and maintenance » Lubricants

Service procedures
RECOMMENDATIONS
When service is required, DaimlerChrysler Corporation recommends that only Mopart brand parts, lubricants and chemicals be used. Mopar provides the best engineered products for servicing Daimler- Chrysler Corporation vehicles.
INTERNATIONAL SYMBOLS
DaimlerChrysler Corporation uses international symbols to identify engine compartment lubricant and fluid inspection and fill locations (Fig. 1).
CLASSIFICATION OF LUBRICANTS
Only lubricants bearing designations defined by the following organization should be used to service a DaimlerChrysler Corporation vehicle.
Society of Automotive Engineers (SAE)
American Petroleum Institute (API) (Fig. 2)
National Lubricating Grease Institute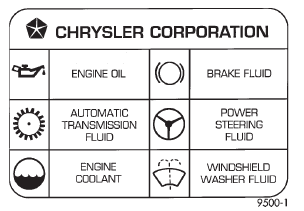 Fig. 1 International Symbols
ENGINE OIL
SAE VISCOSITY RATING INDICATES ENGINE OIL VISCOSITY
An SAE viscosity grade is used to specify the viscosity of engine oil. SAE 30 specifies a single viscosity engine oil. Engine oils also have multiple viscosities. These are specified with a dual SAE viscosity grade which indicates the cold-to-hot temperature viscosity range.
SAE 30 = single grade engine oil.
SAE 10W-30 = multiple grade engine oil.
DaimlerChrysler Corporation only recommends multiple grade engine oils.
API QUALITY CLASSIFICATION
This symbol (Fig. 2) on the front of an oil container means that the oil has been certified by the American Petroleum Institute (API) to meet all the lubrication requirements specified by DailmlerChrysler Corporation.
Refer to Group 9, Engine for gasoline engine oil specification.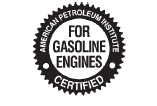 Fig. 2 API Symbol
GEAR LUBRICANTS
SAE ratings also apply to multiple grade gear lubricants. In addition, API classification defines the lubricants usage.
LUBRICANTS AND GREASES
Lubricating grease is rated for quality and usage by the NLGI. All approved products have the NLGI symbol (Fig. 3) on the label. At the bottom NLGI symbol is the usage and quality identification letters.
Wheel bearing lubricant is identified by the letter "G". Chassis lubricant is identified by the latter "L".
The letter following the usage letter indicates the quality of the lubricant. The following symbols indicate the highest quality.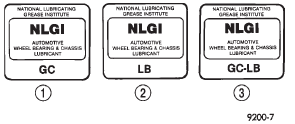 Fig. 3 NLGI Symbol
1 - WHEEL BEARINGS
2 - CHASSIS LUBRICATION
3 - CHASSIS AND WHEEL BEARINGS
More about «Lubricants»:
Service procedures