Jeep Cherokee

Service Manual

Suspension » Rear suspension » Removal and installation

Stabilizer bar
REMOVAL
Raise and support the vehicle.
Disconnect stabilizer bar links from spring brackets (Fig. 2).
Disconnect the stabilizer bar brackets from the body rails. Remove the stabilizer bar and links.
INSTALLATION
Position the stabilizer bar links at the spring brackets. Install the attaching bolts and nuts and tighten to 74 N·m (55 ft. lbs.).
Attach the stabilizer bar to the body rail brackets with the bolts. Tighten to 54 N·m (40 ft. lbs.).
Remove the supports and lower the vehicle.
REMOVAL AND INSTALLATION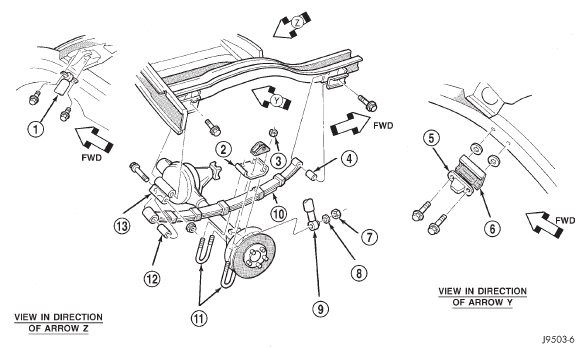 Fig. 1 Rear Suspension Components
1 - SHOCK ABSORBER
2 - SPRING BRACKET
3 - NUT
4 - BUSHING
5 - BUMPER
6 - BRACKET
7 - NUT
8 - RETAINER
9 - SHOCK ABSORBER
10 - SPRING
11 - U-BOLTS
12 - BUSHING
13 - SHACKLE
More about «Removal and installation»:
Stabilizer bar