Jeep Cherokee

Service Manual

Steering » Steering linkage » Removal and installation

Tie rod
CAUTION: Use a Puller tool C-3894-A for tie rod removal. Failure to use this tool could damage the ball stud and seal (Fig. 3).
REMOVAL
(1) Remove the cotter pins and nuts at the tie rod ball studs and drag link.
(2) Loosen the ball studs with a puller tool to remove the tie rod.
(3) Loosen clamp bolts and unthread the tie rod end from the tube.
INSTALLATION
(1) Thread the tie rod end into the tube and position the clamp to it's original position (Fig. 4).
Tighten the clamp bolts to 27 N·m (20 ft. lbs.).
(2) Install the tie rod on the drag link and steering knuckle. Install the retaining nuts.
(3) Tighten the ball stud nut on the steering knuckle to 47 N·m (35 ft. lbs.). Tighten the ball stud nut to drag link to 74 N·m (55 ft. lbs.). Install new cotter pins.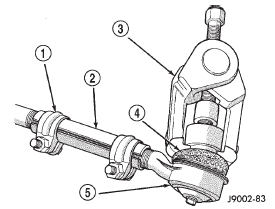 Fig. 3 Ball Stud Puller
1 - CLAMP
2 - ADJUSTMENT SLEEVE
3 - PULLER TOOL C-3894-A
4 - SEAL
5 - TIE-ROD END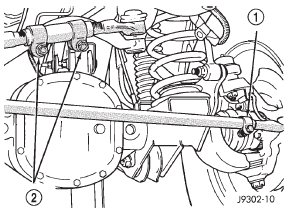 Fig. 4 Tie Rod/Drag Link Clamps
1 - TIE ROD CLAMP
2 - DRAG LINK CLAMPS
More about «Removal and installation»:
Tie rod