Jeep Cherokee

Owners Manual

Things to know before starting your vehicle » Liftgate

To Lock The Liftgate
With a valid Passive Entry RKE transmitter within 3 ft (1.0 m) of the liftgate, push the Passive Entry LOCK button located to the right of electronic liftgate release.
NOTE: The liftgate passive entry lock button will only lock the liftgate. The liftgate unlock feature is built into the electronic liftgate release.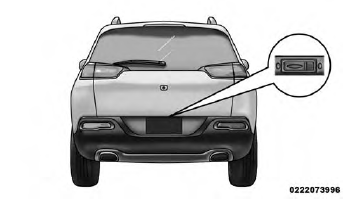 Liftgate Entry
NOTE: Use the power door LOCK switch on either front door trim panel or the Remote Keyless Entry (RKE) transmitter to lock and unlock the liftgate. The manual door locks on the doors and the driver's door lock cylinder will not lock and unlock the liftgate.
WARNING!
Driving with the liftgate open can allow poisonous exhaust gases into your vehicle. You and your passengers could be injured by these fumes. Keep the liftgate closed when you are operating the vehicle.
More about «Liftgate»:
To Lock The Liftgate