Jeep Cherokee

Owners Manual

Understanding the features of your vehicle » Seats » 60/40 Split Folding Rear Seat With Fold-Flat Feature

To Raise The Rear Seat
NOTE: If interference from the cargo area prevents the seatback from fully locking, you will have difficulty returning the seat to its proper position.
Raise the seatback and lock it into place.
WARNING!
Be certain that the seatback is securely locked into position. If the seatback is not securely locked into position the seat will not provide the proper stability for child seats and/or passengers. An improperly latched seat could cause serious injury.
Recliner Adjustment
The rear seatback also reclines for additional passenger comfort. Pull on the pull strap while sitting in the rear seat to recline the seatback.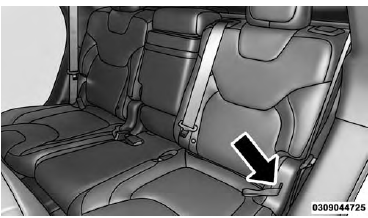 Rear Seat Recliner Pull Strap
WARNING!
Do not ride with the seatback reclined so that the shoulder belt is no longer resting against your chest.
In a collision you could slide under the seat belt, which could result in serious injury or death.
More about «60/40 Split Folding Rear Seat With Fold-Flat Feature»:
To Raise The Rear Seat