Jeep Cherokee

Service Manual

Differential and driveline » 194 RBI axle » Diagnosis and testing

Trac-loky test
WARNING: WHEN SERVICING VEHICLES WITH A TRAC-LOKY DIFFERENTIAL DO NOT USE THE ENGINE TO TURN THE AXLE AND WHEELS. BOTH REAR WHEELS MUST BE RAISED AND THE VEHICLE SUPPORTED. A TRAC-LOKY AXLE CAN EXERT ENOUGH FORCE IF ONE WHEEL IS IN CONTACT WITH A SURFACE TO CAUSE THE VEHICLE TO MOVE.
The differential can be tested without removing the differential case by measuring rotating torque. Make sure brakes are not dragging during this measurement.
(1) Place blocks in front and rear of both front wheels.
(2) Raise one rear wheel until it is completely off the ground.
(3) Engine off, transmission in neutral, and parking brake off.
(4) Remove wheel and bolt Special Tool 6790 to studs.
(5) Use torque wrench on special tool to rotate wheel and read rotating torque (Fig. 5).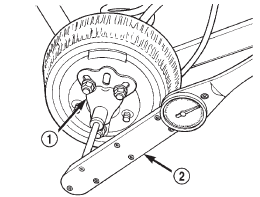 Fig. 5 Trac-lokY Test -Typical
1 - SPECIAL TOOL 6790 WITH BOLT IN CENTER HOLE
2 - TORQUE WRENCH
(6) If rotating torque is less than 22 N·m (30 ft.
lbs.) or more than 271 N·m (200 ft. lbs.) on either wheel the unit should be serviced.
More about «Diagnosis and testing»:
Trac-loky test