Jeep Cherokee

Service Manual

Turn signal and hazard warning systems » Diagnosis and testing

Turn signal switch and hazard warning switch
The turn signal switch and the hazard warning switch are integral to the multi-function switch.
Refer to Turn Signal and Hazard Warning Systems in the Diagnosis and Testing section of this group before testing the multi-function switch. For complete circuit diagrams, refer to Turn Signals in the Contents of Group 8W - Wiring Diagrams.
WARNING: ON VEHICLES EQUIPPED WITH AIRBAGS, REFER TO GROUP 8M - PASSIVE RESTRAINT SYSTEMS BEFORE ATTEMPTING ANY STEERING WHEEL, STEERING COLUMN, OR INSTRUMENT PANEL COMPONENT DIAGNOSIS OR SERVICE.
FAILURE TO TAKE THE PROPER PRECAUTIONS COULD RESULT IN ACCIDENTAL AIRBAG DEPLOYMENT AND POSSIBLE PERSONAL INJURY.
(1) Disconnect and isolate the battery negative cable. Disconnect the instrument panel wire harness connector from the multi-function switch connector receptacle.
(2) Using an ohmmeter, perform the switch continuity checks at the connector receptacle terminals as shown in the Multi-Function Switch Continuity chart (Fig. 3).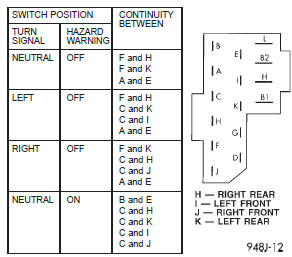 Fig. 3 Multi-Function Switch Continuity
(3) If the turn signal switch or hazard warning switch fails any of the continuity checks, replace the faulty multi-function switch assembly as required. If the switch circuits are OK, repair the lighting circuits as required.
More about «Diagnosis and testing»:
Turn signal switch and hazard warning switch