Jeep Cherokee

Owners Manual

Understanding the features of your vehicle » Adaptive cruise control (acc) - if equipped » Precautions While Driving With ACC

Turns And Bends
When driving on a curve with ACC engaged, the system may decrease the vehicle speed and acceleration for stability reasons, with no target vehicle detected. Once the vehicle is out of the curve the system will resume your original Set Speed. This is a part of normal ACC system functionality.
NOTE: On tight turns ACC performance may be limited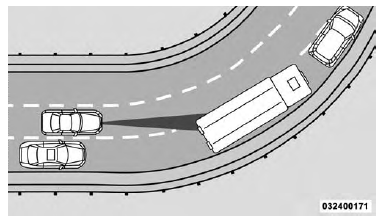 Turn Or Bend Example
Using ACC On Hills
When driving on hills, ACC may not detect a vehicle in your lane. Depending on the speed, vehicle load, traffic conditions, and the steepness of the hills, ACC performance may be limited.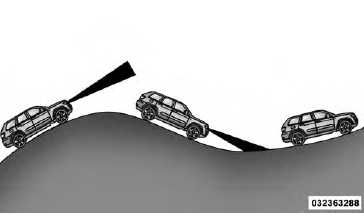 ACC Hill Example
More about «Precautions While Driving With ACC»:
Turns And Bends