Jeep Cherokee

Service Manual

Lamps » Lamp service

Underhood lamp
The underhood lamp is installed on the hood inner panel. The lamp illuminates when the hood is opened. A switch that is integral with the lamp base controls the operation. The switch provides automatic ON/OFF functions each time the hood is opened and closed.
REMOVAL
(1) Disconnect the wire harness connector from the lamp.
(2) Remove lamp lens.
(3) Remove bulb.
(4) Remove screw attaching underhood lamp to the inner hood panel.
(5) Separate underhood lamp from vehicle.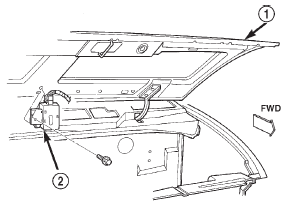 Fig. 8 Underhood Lamp
1 - HOOD
2 - UNDERHOOD LAMP/SWITCH
INSTALLATION
(1) Position underhood lamp on hood inner panel.
Ensure anti-rotation tab is positioned in slot on hood inner panel.
(2) Install the attaching screw through the lamp and into the hood panel (Fig. 8). Tighten the screw securely.
(3) Fold lamp housing over and firmly press onto base to snap into place.
(4) Connect the wire harness connector to the lamp.
More about «Lamp service»:
Underhood lamp