Jeep Cherokee

Service Manual

Transmission and transfer case » Automatic transmission-30RH » Removal and installation

Valve body
REMOVAL
(1) Raise vehicle.
(2) Remove oil pan and drain fluid.
(3) Loosen clamp bolts and remove throttle and manual valve levers from manual lever shaft.
(4) Remove park/neutral position switch.
(5) Remove filter from valve body.
(6) Depress retaining clip and pull solenoid wire from case connector (Fig. 81).
(7) Remove valve body attaching screws.
(8) Lower valve body enough to remove accumulator piston and piston spring (Fig. 82).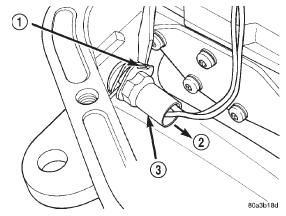 Fig. 81 Solenoid Wire Connector
1 - PUSH CLIP IN
2 - PULL
3 - CONVERTER CLUTCH SOLENOID CONNECTOR
(9) Pull valve body forward to disengage park rod.
(10) Push manual lever shaft and solenoid case connector out of transmission case.
(11) Lower valve body, rotate it away from case, pull park lock rod out of sprag, and remove valve body (Fig. 83).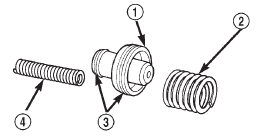 Fig. 82 Accumulator Piston And Springs
1 - ACCUMULATOR PISTON
2 - OUTER SPRING
3 - PISTON SEAL RINGS
4 - INNER SPRING (32RH)
INSTALLATION
(1) Verify that park/neutral position switch is NOT installed. Valve body cannot be installed with switch in place. Remove switch if necessary.
(2) Install new seals on accumulator piston if necessary, and install piston in case. Use small amount of petroleum jelly to hold piston in place.
(3) Place valve body manual lever in low (1 position) to ease inserting park rod into sprag.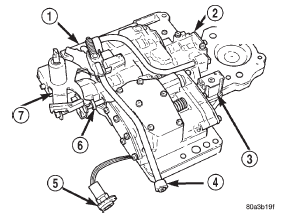 Fig. 83 Valve Body
1 - VALVE BODY
2 - CONVERTER CLUTCH MODULE
3 - SOLENOID
4 - PARK ROD
5 - CONVERTER CLUTCH SOLENOID CONNECTOR
6 - MANUAL VALVE
7 - MANUAL LEVER
(4) Use screwdriver to push park sprag into engagement with park gear. This makes clearance for knob on lock rod to move past sprag when valve body is installed. Rotate output shaft to verify sprag engagement.
(5) Position accumulator spring between accumulator piston and valve body.
(6) Position valve body on transmission and work knob on park lock rod past sprag. Be sure accumulator piston and spring remain in position.
(7) Hold valve body in position and install valve body screws finger tight.
(8) Install park/neutral position switch.
(9) Tighten valve body screws alternately and evenly to 11 N·m (100 in. lbs.) torque.
(10) Install new fluid filter on valve body. Install and tighten filter screws to 4 N·m (35 in. lbs.) torque.
(11) Connect solenoid wire to case connector.
(12) Install manual and throttle levers on throttle lever shaft. Tighten lever clamp screws and check for free operation. Shaft and levers must operate freely without any bind.
(13) Install oil pan and new gasket. Tighten pan bolts to 17 N·m (150 in. lbs.) torque. Install gasket dry; do not use sealer.
(14) Connect park/neutral position switch and converter clutch solenoid wires.
(15) Install speedometer pinion gear, adapter and speed sensor.
(16) Lower vehicle.
(17) Fill transmission with Mopart ATF Plus 3, Type 7176 fluid.
(18) Adjust gearshift and throttle cable if necessary.
More about «Removal and installation»:
Valve body