Jeep Cherokee

Owners Manual

Starting and operating » Four-wheel drive operation

1-Speed Four-Wheel Drive (4X4) - If Equipped
This feature provides on-demand four-wheel drive (4X4).
The system is automatic with no driver inputs or additional driving skills required. Under normal driving conditions, the front wheels provide most of the traction.
If the front wheels begin to lose traction, power is shifted automatically to the rear wheels. The greater the front wheel traction loss, the greater the power transfer to the rear wheels.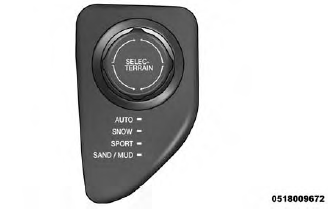 1-Speed 4X4 Switch
Additionally, on dry pavement under heavy throttle input (where one may have no wheel spin), torque will be sent to the rear in a pre-emptive effort to improve vehicle launch and performance characteristics.
CAUTION!
All wheels must have the same size and type tires.
Unequal tire sizes must not be used. Unequal tire size may cause failure of the power transfer unit.
More about «Four-wheel drive operation»:
1-Speed Four-Wheel Drive (4X4) - If Equipped