Jeep Cherokee

Service Manual

Audio systems » Removal and installation

Antenna
WARNING: ON VEHICLES EQUIPPED WITH AIRBAGS, REFER TO GROUP 8M - PASSIVE RESTRAINT SYSTEMS BEFORE ATTEMPTING ANY STEERING WHEEL, STEERING COLUMN, OR INSTRUMENT PANEL COMPONENT DIAGNOSIS OR SERVICE. FAILURE TO TAKE THE PROPER PRECAUTIONS COULD RESULT IN ACCIDENTAL AIRBAG DEPLOYMENT AND POSSIBLE PERSONAL INJURY.
(1) Disconnect and isolate the battery negative cable.
(2) Remove the right front fender inner splash shield. Refer to Group 23 - Body for the procedures.
(3) Reach under the right end of the instrument panel to unplug the antenna coaxial cable connector (Fig. 12). Unplug the connector by pulling it apart while twisting the metal connector halves. Do not pull on the cable.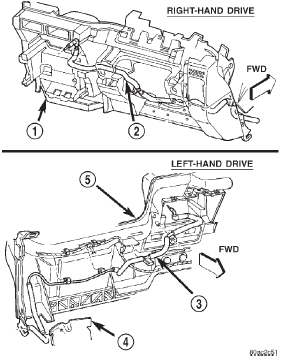 Fig. 12 Antenna Cable Routing
1 - INSTRUMENT PANEL
2 - ANTENNA COAXIAL CABLE
3 - ANTENNA COAXIAL CABLE
4 - HEATER-A/C HOUSING KICK COVER
5 - INSTRUMENT PANEL
(4) Unscrew the antenna mast from the antenna body (Fig. 13).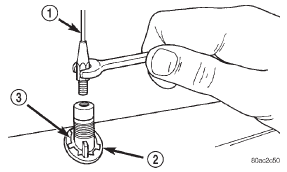 Fig. 13 Antenna Mast Remove/Install - Typical
1 - ANTENNA MAST
2 - ADAPTER
3 - CAP NUT
(5) Remove the antenna cap nut and adapter using an antenna nut wrench (Special Tool C-4816) (Fig.
14).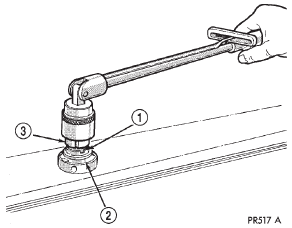 Fig. 14 Antenna Cap Nut and Adapter Remove/Install - Typical
1 - CAP NUT
2 - ANTENNA ADAPTER
3 - TOOL
(6) Lower the antenna body and cable assembly through the top of the fender far enough to access the antenna body by reaching up into the rear of the right front fender wheel housing (Fig. 15).
(7) Disengage the coaxial cable grommet from the hole in the right cowl side outer panel.
(8) Pull the coaxial cable out through the right cowl side outer panel.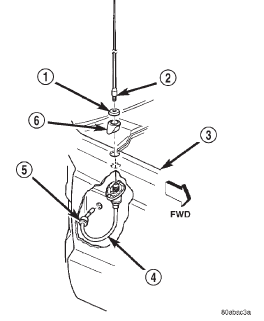 Fig. 15 Antenna Mounting
1 - NUT
2 - MAST
3 - RIGHT FRONT FENDER
4 - ANTENNA BODY AND CABLE
5 - GROMMET
6 - ADAPTER
(9) Remove the antenna body and cable from the vehicle.
(10) Reverse the removal procedures to install.
Tighten the antenna cap nut to 6.2 N·m (55 in. lbs.).
Tighten the antenna mast to 3.3 N·m (30 in. lbs.).
More about «Removal and installation»:
Antenna